"We are so happy with the way you organized the ceremony-it was really personal, funny and emotional and we couldn't have asked for a better officiant.We keep replaying the ceremony in our minds and the guests have been raving about how beautiful the ceremony was so Thank you!! We really appreciate all of your hard work and dedication to making our ceremony so perfect. We are super happy and wish we could do it all over again." Rosanna & Bryn,  Château d'Auros, FRANCE.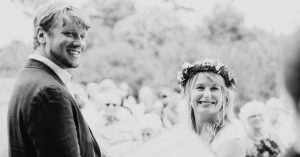 Blanca is a professional, sweet, wedding officiant with a wide experience in multicultural celebrations. She adapts easily to translate each couple's needs, expectations and personality to create the perfect  wedding ceremony. Her ability to speak fluently three languages (english, french and spanish), gives her the opportunity to reach couples from several nationalities.
Her passion for wedding celebrations started back in 2014 in Riviera Maya, Mexico. She had the blessing to conduct over 150 successful wedding ceremonies.  
Following her heart, she established herself in Bordeaux in 2016 where she continues to work closely with couples that are looking for a lifetime memory in the South-West France and abroad.
"Un grand merci Blanca d'avoir célébré notre mariage et pour ton aide précieuse lors de la préparation de la cérémonie. Cette dernière a été très émouvante et restera à jamais gravée dans notre mémoire.
Love, NKOL" Cabane Bartherotte, Lège-Cap-Ferret, France. 2017
Blanca will take time to get to know you and your special story. She will ensure that every detail is taken in consideration: from the preparation of your unique -personalized speech, your vows, the music, the entry, rings, she will be there for you each step of the way!
She will also arrive at least one hour before the ceremony to revise all last minute details that could arise as her commitment is that you're happy and at ease on the most important day of your lives.  
"Blanca made the whole process enjoyable, and the ceremony was personalized beautifully. All of our guests commented on how special it was, and how much it reflected our personalities. She went out of her way to make us relaxed, and dealing with her was a pleasure. Would definitely recommend Blanca!
"Wow what a romantic, well organized, professional service you carried out, you made both families very proud, you made every smile, laugh and cry (happy tears) a memorable one. Thank you"  Father of the groom. " Aimée & Ben, Château de Sentout, FRANCE.
In Bordeaux and the Aquitaine Area, France as well as in Europe, there are hundreds of gorgeous venues to say "I DO".  What about getting married at a french romantic château in the middle of a gorgeous vineyard in the South West France? Maybe you would like the classic Eiffel tower to commemorate your love.  The possibilities are endless! Blanca is available to travel throughout France and Europe. 
Same Sex Ceremonies Available
Email. blancabertely@gmail.com
Facebook. www.facebook.com/celebrantblancabertely
Cel (France). (+33) 782.45.58.66