Jess et Tony, Château La Chèze, France. Juillet, 2019.
Recommandations
Après pas mal de recherches, nous avons trouvé Blanca qui s'est occupée de notre cérémonie laïque en anglais/ français.
C'était vraiment parfait pour nous et nous avons eu de superbes retours de nos invités.
Blanca a su nous accompagner du début à la fin de manière très professionnelle et nous la recommandons vivement !
On peut vraiment dire qu'elle a largement contribué au succès de notre mariage et nous ne pouvons que la remercier !
 
Cristel et Jérémie, Château Saint Georges, France. Juin, 2019.
Une cérémonie de rêve !
Nous avons eu la chance de trouver quelqu'un de si professionnel et adorable que Blanca.
Depuis notre première rencontre, elle nous a inspiré une énorme confiance grâce à sa personnalité et au fait qu'elle répondait à toutes nos questions rapidement, de manière très claire et en étant toujours très agréable.
Au cours des mois de préparations de notre mariage, nous sommes bien sûr restés en contact avec Blanca et lors de notre première rencontre avec elle, elle a su toute de suite nous mettre à l'aise afin que nous lui racontions notre très longue historie de couple (10 ans ensemble).
De manière général, elle a toujours été à l'écoute et nous a donné de bons conseils pour pouvoir mieux gérer nos idées et nos pensées. Elle nous a particulièrement guidés au moment d'écrire nos discours et elle nous a appris à ce moment qu'il ne fallait pas que nous soyons d'excellents écrivains mais seulement que nous écrivions nos vœux avec notre cœur.
Finalement, le jour J, nous avons vraiment "adoré" notre cérémonie. Tout d'abord, le "grand"plus d'avoir une célébrante trilingue. En effet, notre mariage a été très international, nos familles (du Mexique, France et des Etats-Unis) ainsi que nos amis (français et internationaux) ont particulièrement apprécié le fait de pouvoir comprendre la cérémonie et d'en saisir toutes les émotions grâce à l'excellent travail de Blanca.
De plus, la personnalité charmante et le professionnalisme de notre célébrante nous ont beaucoup aidés à être moins nerveux et ainsi à pouvoir mieux profiter de ce moment si spécial. Pour finir, grâce à l'excellent travail de Blanca, notre cérémonie a été parfaite, avec beaucoup d'émotions (happy tears) des rires et des moments tout simplement inoubliables.
Nous n'avons pas les mots précis pour suffisamment remercier Blanca d'avoir été notre célébrante et pour avoir organiser la cérémonie de nos rêves !
 
Eddie & Lynn, Tour Eiffel, Paris, FRANCE. August, 2018
We are so very pleased with Blanca for our celebrant for our Paris, France wedding! She is professional, thoughtful, articulate, well spoken, prompt, flexible, organized, and easy to communicate with. She put a lot of thought and time into preparing our ceremony and truly made it be a reflection of our love, devotion, and commitment for each other. She provided a beautiful certificate. We will treasure it for the rest of our lives, and remember her and our special day when we look at it!! Thank you, Blanca!!
Photo credit.Brant Smith Photography
Youli & PM, Château Meyre, Avensan, FRANCE. July, 2018.
Professionnelle et pointilleuse, elle fut un don du ciel — Professional and caring… she was godsend !
Au début, nous étions heureux d'avoir trouvé quelqu'un qui parle anglais et français à Bordeaux, mais elle était tellement plus qu'un simple célébrant bilingue. De notre première réunion au jour du mariage, elle nous a guidés tout au long du processus et a rendu notre cérémonie vraiment spéciale. Nous avons senti qu'elle était vraiment passionnée par ce travail et qu'il était très facile de travailler avec elle. Même si nous planifions le mariage depuis Singapour, elle répondait toujours rapidement à nos e-mails et la communication n'a jamais un problème.
Ma famille ne parlait pas anglais / français, alors Blanca a fait un travail formidable en travaillant avec mon ami pour s'assurer que tous les éléments clés étaient également traduits en coréen, afin que ma famille ne manque rien. Nous avons eu des changements de dernière minute malheureux, mais Blanca a géré cela de manière très professionnelle.
Tous nos invités ont été impressionnés par notre cérémonie et ont félicité le célébrant. Nous nous sentons chanceux de l'avoir trouvée et recommanderions son service à tous les couples nouvellement engagés !
—————-
At first we were just happy to have found someone who speaks both English and French in Bordeaux, but she was SO MUCH MORE than just a bilingual officiant. From our first meeting to the wedding day, she guided us through the whole process and made our ceremony feel really special. We felt that she was genuinely passionate about this work and she was very easy to work with. Even though we were planning the wedding from Singapore, she was always quick to reply to our emails and communication was never a problem.
My family didn't speak English/French, so Blanca did amazing job working with my friend to make sure all key parts were also translated in Korean, so my family wouldn't miss anything. We had some unfortunate last minute changes, but Blanca handled it super professionally.
All our guests were impressed with our ceremony and complimented the officiant. We feel lucky to have found her and would recommend her service to all newly engaged couples !

Julien et Pierre, Château de la Ligne, Bordeaux, FRANCE. May, 2018.
Cérémonie Laïque Merveilleuse – Wonderful Laic Ceremony
Blanca nous a préparé une cérémonie géniale. Du début de la fin, elle a été très professionnelle et vraiment utile. Elle nous a guidés à travers la préparation de la cérémonie laïque de notre mariage, et nous a recommandé plusieurs charmantes surprises, comme la cérémonie des vins, ou le fait d'avoir fait la cérémonie à la fois en français et en anglais. Elle est charmante et nous la recommandons fortement.
——————————
Blanca prepared an amazing ceremony for us. From beginning to end, she was very professional and extremely helpful. She guided us through the preparation of the laic wedding ceremony, recommended a couple of lovely 'surprises', such as the wine ceremony, and performed the ceremony both in French and English. She is a lovely person to work with and we strongly recommend her!

Photo credit. Instants Partages
Nicola & Jonathan, Johannesburg Country Club, SOUTH AFRICA. March, 2018.
Dear Blanca,
Thanks for your patience regarding this testimonial and apologies it's taken us so long.
As a start, it has been more than 5 months since our wedding and our guests are still talking about
our wonderful wedding ceremony. The personal touches and professional nature of the ceremony
were the standout features for all our guests. We remember you walking around, making regular
eye contact with them, as you took them through each stage of the ceremony. This was a wonderful
touch as they felt they were included and there was not a dry eye in sight!
Being married by my best friend of 18 years was incredibly special, like something out of a fairy-tale
story which added another incredible layer of love and warmth to the ceremony. You also made the
effort to get to know Jono individually in the months leading up to our wedding and to get to know
us as a couple. This was evident in the way you incorporated our love of wine. You created a unique
moment for us, with the wine ceremony and letters that we had written to one another. We look
forward to opening our wine crate and reading our letters in years to come and reliving our special
day.
Thank you for all your help and support in the months leading up to our wedding – making sure we
were on track with our relationship, considering (and completing) our vows and asking us a variety
of questions so that we were prepared for our day in the best possible way.
Above all, thank you to you and Diego for coming to South Africa to share and be an integral part of
our special day. This time spent with you both will live long in our hearts. We know our daughter
Maya loved spending time with her Tia y Tio and we all look forward to seeing you soon.
Lots of love,
Jono and Nix
24 th March 2018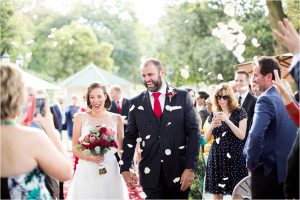 Devann & Thomas, Château Grattequina, France. October, 2017
EN "Words cannot describe how amazing our ceremony was. Blanca personalized absolutely everything! We talked a few times to really get to know each other and personalize the wedding and it really worked! it was such a personal wedding with a hint of religion, but not crazy. We had a French-Canadian wedding and she translated word for word the whole ceremony. Everyone at the wedding said it was the most amazing ceremony they have ever attended and will recommend her to anyone that is getting married even if we need to fly her to Canada! I planned the whole wedding from Canada which was hard, but Blanca gave many pointers on venues and suppliers which helped SO much!
Thanks again Blanca it was so amazing to meet you and for you to be apart of of wedding was so special to us! and if you ever come to Canada your more then welcome!"
Les Alex, Château de Seguin Events, FRANCE. September, 2017
Futur(e)s marié(e)s n'hésitez pas et laissez faire Blanca !!! Nous avons rencontré Blanca lorsque nous cherchions une personne pour célébrer notre cérémonie laïque sur Bordeaux, en français y en español parce que mon mari est Madrilène, et nous avons eu un coup de cœur tous les 2 pour sa gentillesse et l'amour de son métier qu'elle a su nous transmettre immédiatement !
Nous voulions que cette cérémonie soit simple et en même temps émouvante et à notre image : Blanca a su nous accompagner, nous conseiller et faire de ce moment (riche en émotions!!) une réussite !
Elle a participé pour beaucoup à l'émotion partagée ce jour là avec tout le monde et nos invités nous en parle encore ! Quand à nous nous ne pouvons que te remercier Blanca pour ce moment magique !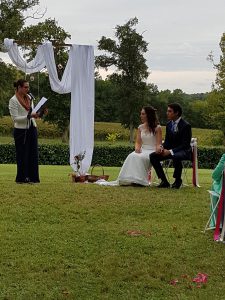 Danielle & Mathieu. Château Pontet d'Eyrans, FRANCE. 2017
EN.
I recommend Blanca to all future bride and grooms! Our wedding would not have been as special as it was without Blanca. First, she responded to my message on Facebook right away. We spoke on the phone the next day to talk about Mathieu and I and what we wanted for our ceremony. She also sent me questions on e-mail. Blanca is very passionate about her profession. I planned our wedding from America, so it was not easy with certain vendors, but Blanca was the best person to work with. We had a franco-american marriage, so half of the guests spoke english and the other half spoke french. She created a ceremony where everyone could understand. It was so amazing! Every sentence she spoke in English she also spoke in French. The guests were so pleased. Our theme was wine, so Blanca had a wonderful idea to incorporate that into our ceremony. She asked my husband and I to write love letters to each other and to buy a bottle of wine that we will share our 5th anniversary. We put the letters in the wine case to also read on our 5th anniversary. Her speech was very beautiful and emotional; everyone loved it. Thank you so much Blanca 
FR. Je recommande Blanca à tous les futurs mariés! Notre mariage n'aurait pas été aussi spécial que jamais sans Blanca. D'abord, elle a répondu à mon message sur Facebook tout de suite. Nous avons parlé au téléphone le lendemain pour parler de Mathieu et moi et de ce que nous voulions pour notre cérémonie. Elle m'a également envoyé des questions par e-mail. Blanca est très passionnée par sa profession. J'ai organisé notre mariage d'Amérique, donc ce n'était pas facile avec certains vendeurs, mais Blanca était la meilleure personne avec qui travailler. Nous avons eu un mariage franco-américain, donc la moitié des invités ont parlé anglais et l'autre moitié parlait français. Elle a créé une cérémonie où tout le monde pouvait comprendre. C'était tellement incroyable! Chaque phrase qu'elle a parlé en anglais, elle a également parlé en français. Les invités étaient très heureux. Notre thème était le vin, donc Blanca avait une idée merveilleuse pour intégrer cela dans notre cérémonie. Elle a demandé à mon mari et à moi d'écrire des lettres d'amour et d'acheter une bouteille de vin que nous allons partager notre 5ème anniversaire. Nous mettons les lettres dans une caisse du vin pour lire aussi notre 5ème anniversaire. Son discours était très beau et émotif; tout le monde l'aimait. Merci beaucoup Blanca
♥
Photo credit. Ledia Tashi photography
Rosie & Bryn, Château d'Auros, FRANCE. 2017
Hi Blanca, How are you? We are slowly reemerging from our wedding "week" and wanted to send out a proper thank you email to you.
We are so happy with the way you organized the ceremony-it was really personal, funny and emotional and we couldn't have asked for a better officiant.We keep replaying the ceremony in our minds and the guests have been raving about how beautiful the ceremony was so Thank you!! We reaaly appreciate all of your hard work and dedication to making our ceremony so perfect.
We are super happy and wish we could do it all over again
Good luck with the rest of your weddings and with the pastry shop and hopefully see you one day in Bordeaux.

Aimée & Ben, Château de Sentout, FRANCE. 2017
Blanca made the whole process enjoyable, and the ceremony was personalized beautifully. All of our guests commented on how special it was, and how much it reflected our personalities. She went out of her way to make us relaxed, and dealing with her was a pleasure. Would definitely recommend Blanca!
"Wow what a romantic, well organised, professional service you carried out, you made both families very proud, you made every smile, laugh and cry (happy tears) a memorable one. Thank you"  Father of the groom.
Photo credit.  Charles Magrin Photography
NKOL –  Cabane de Bartherotte, Lège-Cap-Ferret, FRANCE. June, 2017
"Un grand merci Blanca d'avoir célébré notre mariage et pour ton aide précieuse lors de la préparation de la cérémonie. Cette dernière a été très émouvante et restera à jamais gravée dans notre mémoire.
Love, NKOL"
Kirsten and Luc. Cabane Mimbeau, Lège-Cap-Ferret, France. June, 2017.
Luc and I are well, back in New Zealand now and just finished our first week back at work. We are in the depths of winter, it is cold and our tans from our honeymoon in Greece are quickly fading!! The smiles from our wedding are here to stay for a while though – what a special day, thank you so much for our wonderful ceremony, we received a lot of positive feedback from the guests about the beautiful ceremony, and the emotion in it. There was hardly a dry eye in sight! Happy tears kept on flowing throughout the evening!!
The cakes were great! We also received a lot of positive feedback about how delicious the cakes were with one guest raving about it the following day say "the cake was the best part of the wedding!!". So a very big thank you to Diego. I wish we weren't so far away so we could enjoy his delicious creations more often!
Wishing you all the best for the busy wedding season and we will definitely pass by next tie we are in Bordeaux. Many thanks again.
Cankiz and Sagnak Binzet. Château de Grattequina, FRANCE. April, 2017.
"Dear Blanca,
Thank you so much for these kind and flattering words. We sure had a great time ourselves and the feedback from the guests were also very pleasant.
All the aspects were taken well care of and your part certainly boosted a good start. We are very happy about choosing to work with you.
Enjoy your beautiful city and let us hope we meet again some day. If you do ever visit Istanbul, keep in mind you will have company there 🙂
Best regards,
Cankiz & Sagnak"
Louise and Miles Robinson,  Château Pomys, St Estèphe, FRANCE. July, 2016.
"Hi Blanca
We absolutely loved our wedding day, it couldn't of gone more perfect if we had tried. You were amazing (I have emailed Stephanie to tell her) everybody has said one of their favourite parts of the day was the ceremony as it was so personal and different. I was so nervous, my legs wouldn't stop shaking.
Thank you so much for everything, we plan to come back next year for our one year anniversary so will keep you informed.
Thanks again – we are looking forward to the next chapter in our lives and seeing what adventures it has in store for us.
Thanks
Miles and Louise
Xx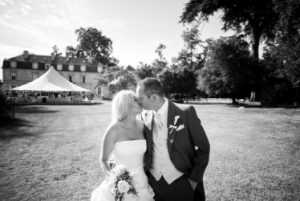 Lauren and Jean-Laurent Pelissier,  Château de la Ligne, Bordeaux, FRANCE. June, 2016.
"Blanca, we cannot thank you enough for having made our ceremony so special! We trusted completely in your guidance and were rewarded with a ceremony that was unique, heartfelt and had our guests in tears of joy and laughter.
We would highly recommend you anyone. You put in so much hard work on the lead up to the wedding, helping to coordinate the readings, guide us in writing and translating our vows and finally bringing everyone together in a moment of beautiful celebration.
We will be forever grateful.
Lauren & Jean-Laurent Pelissier"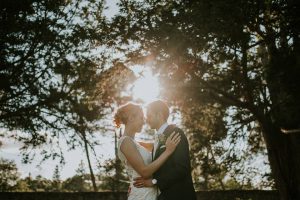 Oprah and Pape DIOP,  June, 2016. Château de la Ligne, Lignan-de-Bordeaux, FRANCE.
"Good evening Blanca;
My husband and I would love to thank you for the amazing job you did. You truly made our ceremony magical and effortless. Your organization and timelines made everything easy and hassle free. Thanks once again for a great job!
Love;
Oprah and Pape"
Akram et Pilar Alaoui,  Châlet des Iles Daumesnil, Paris, FRANCE.

July 2015.
"Blanca, nous tenons à te remercier du plus profond de nos cœurs pour avoir été la "celebrant" de notre mariage. Tu nous a permis de vivre un fabuleux moment qui restera à jamais gravé en nous. Ce fut riche en émotions, les mots étaient juste, tu as habilement tenu un discours en français et en espagnol, tu as su toucher toutes les personnes présentes et créer un instant de partage en mêlant les 2 langues. Nous attendions ce moment depuis longtemps ; tu as été au dessus de nos attentes en termes d'émotion. Un grand merci, à jamais dans nos coeurs." 
"Un mariage magnifique!! Un moment plein d'émotions, un discours pleind'amour et très touchant, une cérémonie du sable magique! J'en ai encore la larme à l'œil rien que d'y penser !! Merci encore Blanca d'avoir illuminé cette belle journée et d'en avoir fait un jour inoubliable!!" Samir Yaici. July, 2015. Châlet des Iles Daumesnil, Paris, France.
Luz Jimenez, Wedding Manager, Occidental Grand Xcaret. Riviera Maya, Mexico. 2015
The best Celebrant in Riviera Maya
Working with Blanca for several months was one of the best experiences, see the commitment and the pleasure she takes from her job is to admire, the way she gives the Celebrant service is extraordinary.
Being at the wedding industry for more than 4 years, has given me the opportunity to see several Celebrants and ceremonies, many of the celebrants give the same lectures, words more words less. The first time I listened Blanca's ceremony, she captivated immediately my attention as her speech and her ceremony stood out from the rest. She is such a sweet and emotive person when she talks, that she softens even the hardest heart.
The interest she has to get to know each couple's story is an added value, as it makes each ceremony a memorable moment for every couple.  She personalizes the ceremony and makes them feel that a longtime friend is marrying them.
Professionally, Blanca is exceptional, punctuality and responsibility are two points that she covers completely.
Whether you are a wedding planner or the bride directly, you will be fortunate to get to meet her and work with her. Hire her will be the best decision for such a special day. Luz Jimenez Coordinadora de Bodas, Occidental Grand Xcaret. Riviera Maya, Mexico.
La mejor Ministro en la Riviera Maya
Trabajar con Blanca a lo largo de varios meses fue una de las mejores experiencias, ver la entrega y el gusto por su trabajo es de admirarse, la forma en que da el servicio de boda es extraordinario.
Al estar en la industria de las bodas por mas de 4 años, he visto diversos Ministros y diversas ceremonias, muchos de ellos tienen las mismas lecturas, palabras mas, palabras menos, al escuchar por primera vez a Blanca cautivo inmediatamente mi atención al ver que su ceremonia y su lectura resaltaba del resto, es una persona extremadamente dulce y emotiva al hablar, que ablanda hasta el corazón más duro.
El interés que tiene por conocer la historia de las parejas es un valor agregado, ya que hace de cada ceremonia un momento memorable para cada pareja al personalizar la ceremonia y hacerlos sentir que los esta casando una amiga de años.
Profesionalmente Blanca es excepcional, la puntualidad y responsabilidad son dos puntos que ella cubre en su totalidad.
Ya seas coordinadora de bodas ó la novia directamente, te sentirás muy afortunada de haberla conocido y trabajar con ella. Contratarla será tu mejor decisión para un día tan especial.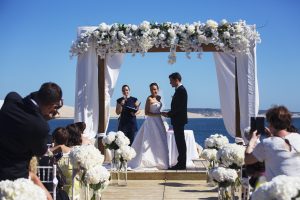 April Sedenquist, Riviera Maya, MEXICO, Feb 2015.
"My husband and I wanted nothing more than to have an intimate & affordable sunset ceremony on the coast of the Gulf of Mexico with our feet in the sand. We were told about Minister Bertely from a local and they spoke very highly of her. After countless correspondence with Minister Bertely I was confident that she would absolutely help us have the perfect ceremony, and she delivered! The ceremony was perfect. She was able to pick up 4 of us from our resort & take us to a spot along the shore that was lovely, we had a little audience from a nearby resort who applauded when we kissed! After the ceremony she took us to a local site with Mayan ruins where we were able to get lovely picture & when we came back to the shore to return to the resort the colors of the sky and sea were so breathtaking that she insisted we take more pictures before returning to the resort. The pictures were spectacular! I could not have asked for a more patient, kind, thoughtful or professional officiant. I would recommend her to everyone!"

Jennifer & David Heisler. Ocean Turquesa- Riviera Maya, Mexico. Feb, 2015.
"You were such a wonderful minister and we are so grateful that you were able to officiate our special day in beautiful mexico! you did such an awesome job. Thank you so much"
 

Areli Arriaga, Wedding Manager, Dreams Puerto Aventuras Resort & Spa- Riviera Maya, Mexico. 2015
In a few words… you are so professional and amazing. I haven't heard any other lovely and sentimental ceremony like yours. Definitely you make every couple feel your words from the deep of their hearts. You do such an amazing job!!! love you, you are the best!!

Marcie Sholdice & Chris A Elwood  from London, Ontario. Ocean Turquesa- Riviera Maya, Mexico. 2014
"We had the great pleasure of having Blanca Bertely perform our wedding ceremony on February 17th 2015. The setting was idyllic, on the sunny beach in Puerto Morelos Mexico. Surrounded with friends and family the day was perfect.
What really brought the whole event together was the service provided by Blanca. Having never met before the wedding day she managed to put all of us at ease with her kind, calm demeanor and friendly welcoming smile. I had written our ceremony, and Blanca also added her own  special words and gave us a beautiful keepsake of the day and to carry with us in our future together. She performed the ceremony in a way that made us feel as if we had known each other for years. All of our guests agreed that it was perfect, and thanks to Blanca, a day that we will never forget." 
Michael and Jill Wagner. Now Sapphire- Riviera Maya, Mexico. October, 2014
 "Very friendly, personable, and professional. I would highly recommend Celebrant Blanca to anyone and everyone! " 30 year vow renewal.
"The wedding officiant, Blanca was also poignant, pleasant, and several guests said that what she said was so great that they cried. She did a handfasting ceremony which we requested, which was also interesting and beautiful. Her English was excellent." Destination Wedding at Now Sapphire.
 Shellis Travel, Minnesotta, USA, February, 2014
"Blanca is a joy to work with!! My destination wedding couples rave about their experience with Blanca. Thank you for taking care of our mutual clients!" http://www.shellistravel.com/
Destination Wedding Travel Agent Janet Reed. August, 2014
"So we have met some amazing people this week on vacation (as we always do). One couple were here for a wedding and he was the best man. They were so sweet. So we just happened to be able to watch the wedding and I ended up knowing the minister performing the ceremony!! A friend from my old travel agent days. Blanca Bertely what an amazing ceremony you performed!!"
February, 2014, Theresa and Chris Pemble.  El Dorado Royale – Riviera Maya, Mexico. 
"Special thanks to Celebrant Blanca Bertely for conducting the ceremony to renew our wedding vows, it was such a special occasion, so personal and intimate, just what we wanted. Perfect in every way."  Vow Renewal.