D & P, La Villa Tosca, Arcachon, FRANCE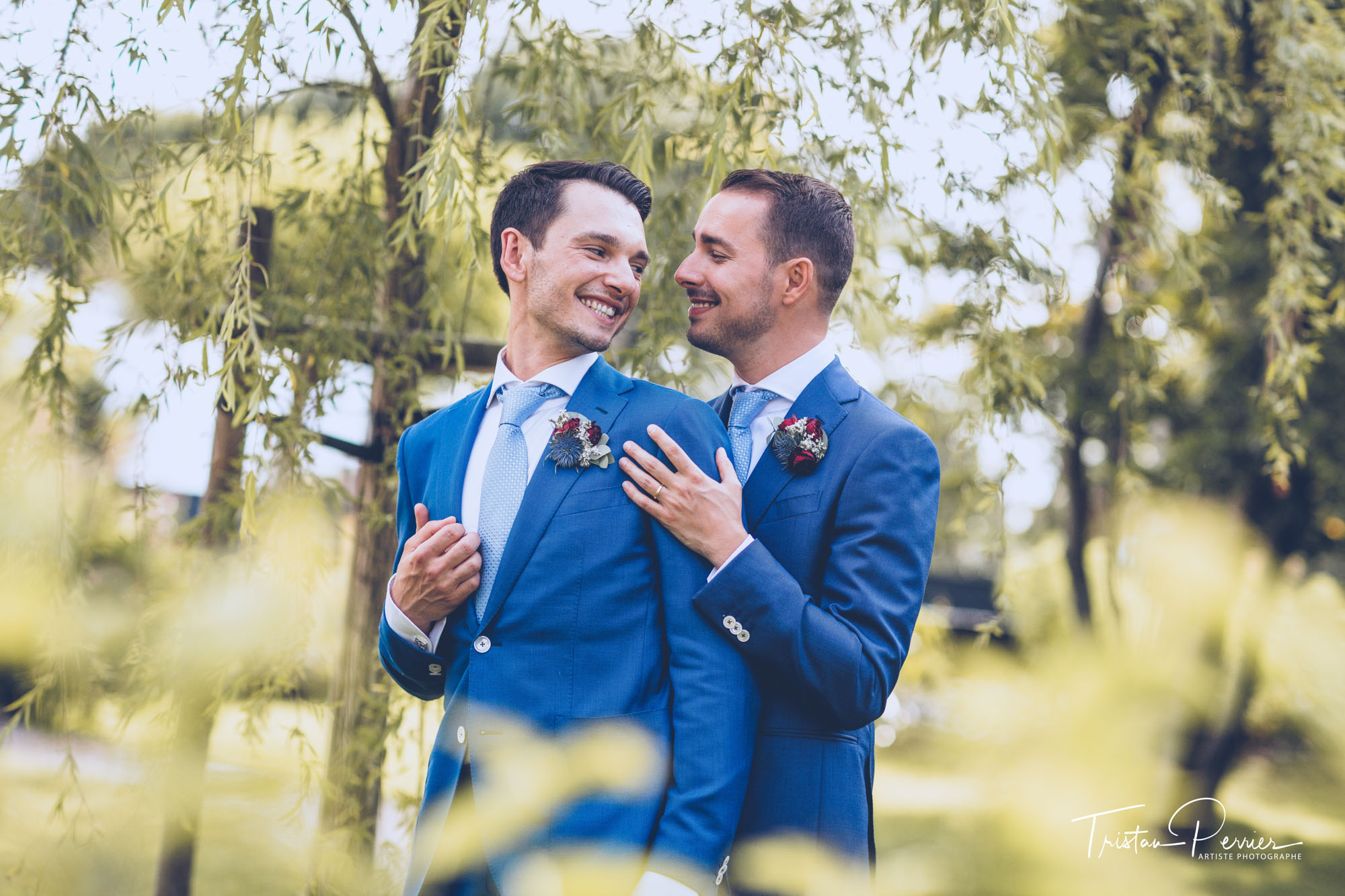 A little over one year ago, I received a phone call from David and Pierre. They were looking for a trilingual wedding celebrant that was able to share their love story with their most loved friends and family. We clicked immediately and developed a special relationship.
David and Pierre are the most handsome, chic couple I have had the pleasure to meet. They are charming, gentle and very down to earth. Also as a confession, every time they are next to one another, there is a big energy, like sparks that give you those love goosebumps. The way they look at each other and great complicity, makes their relationship unique and special.
We met a few months later at my pastry shop to get to know each other and their story a little better. They met in Spain thanks to their gorgeous friend, Yasmin, as she prepared a blind date for them. They didn't expect anything as they were living in different countries and at the time, long distance relationship wasn't an option. But, then … surprise!!! As soon as they saw each other, cupid threw throw an arrow to them and they would fall deeply in love. They exchanged a fun night together and straight away they decided to give love a chance.
Living in different countries wasn't easy, but they managed to keep their relationship alive. They decided to appreciate every second that they spent together, they both learned to communicate, to trust and to have patience. This time, love was bigger than distance.
Eventually, Pierre moved to Belgium to join David. Soon enough, they got their little love fur Gus, a charming black Russel who was also part of their special day. At David's 30th wedding party, Pierre didn't know what to give him, and he went ahead and bought him a ring (without the intention to propose). Little did he know that David would get into one knee and propose to Pierre in front of their most loved group of friends. This was by far, the best birthday party that they both lived!
One year later on a sunny warm day in Cap Ferret, at the stunning venue "La Villa Tosca", surrounded by lavish gardens, ocean view and nice details all around, David and Pierre celebrated their union surrounded by their loved ones.
The ceremony I prepared for them was trilingual, as we wanted to make sure that everyone would be part of this special moment. They had guests coming from all around the globe, including China and Dubai. David and Pierre were so open about their relationship since the beginning, that for me was easy to translate it into an open hearted, fun, chic ceremony where they both shared many happy tears, gentle touches, cheeky looks, laughs and most importantly, their immense love.
The talented Tristan Perrier captured these moments to perfection, here are some of the gorgeous photographs. Alegria was in charge of the music during their wedding day and as usual, did a fantastic job!
Thank you David and Pierre for your friendship and trust, I can't wait to see you when you're back in Bordeaux visiting your family. Gros bisous les amoureux. And remember, love will always win!!!
"Blanca a été une merveilleuse officiante pour notre mariage à la villa la Tosca le 8 juin 2019! Blanca est une crème, à l'écoute, et pleine de surprises! L'office était magique grâce à Blanca et SUR MESURE! Rien n'était laissé au hasard pendant les célébrations et nous sommes toujours en relation! Un grand merci pour ce moment magique et tes attentions (certificat, paroles, poésie etc)
Et sans faute alors que la grande difficulté de notre Mariage est que tout le monde se sente inclus dans nos trois langues: FR EN ES
On t'embrasse
David et Pierre Garcia-Falaux
Blanca was a wonderful wedding officiant for our wedding at villa La Tosca on June 8th, 2019. Blanca is such a sweetheart, good listener and filled with surprises! The ceremony was magical thanks to Blanca's personalisation. Nothing was left aside during the celebrations and we are still in touch with her. A big thank you for this magical moment and for your attentions (certificate, words, poetry, etc)
Without a doubt a big challenge as it was important for us that everyone would fill included in three languages: French, English and Spanish.
Hugs
David et Pierre Garcia-Falaux"
Venue. Villa La Tosca
Photos : Tristan Perrier – Photographe Mariage Bordeaux 
Wedding celebrant. Blanca Bertely
Music, DJ. Alegria Production
---