J & R, Les Sources de Caudalie, FRANCE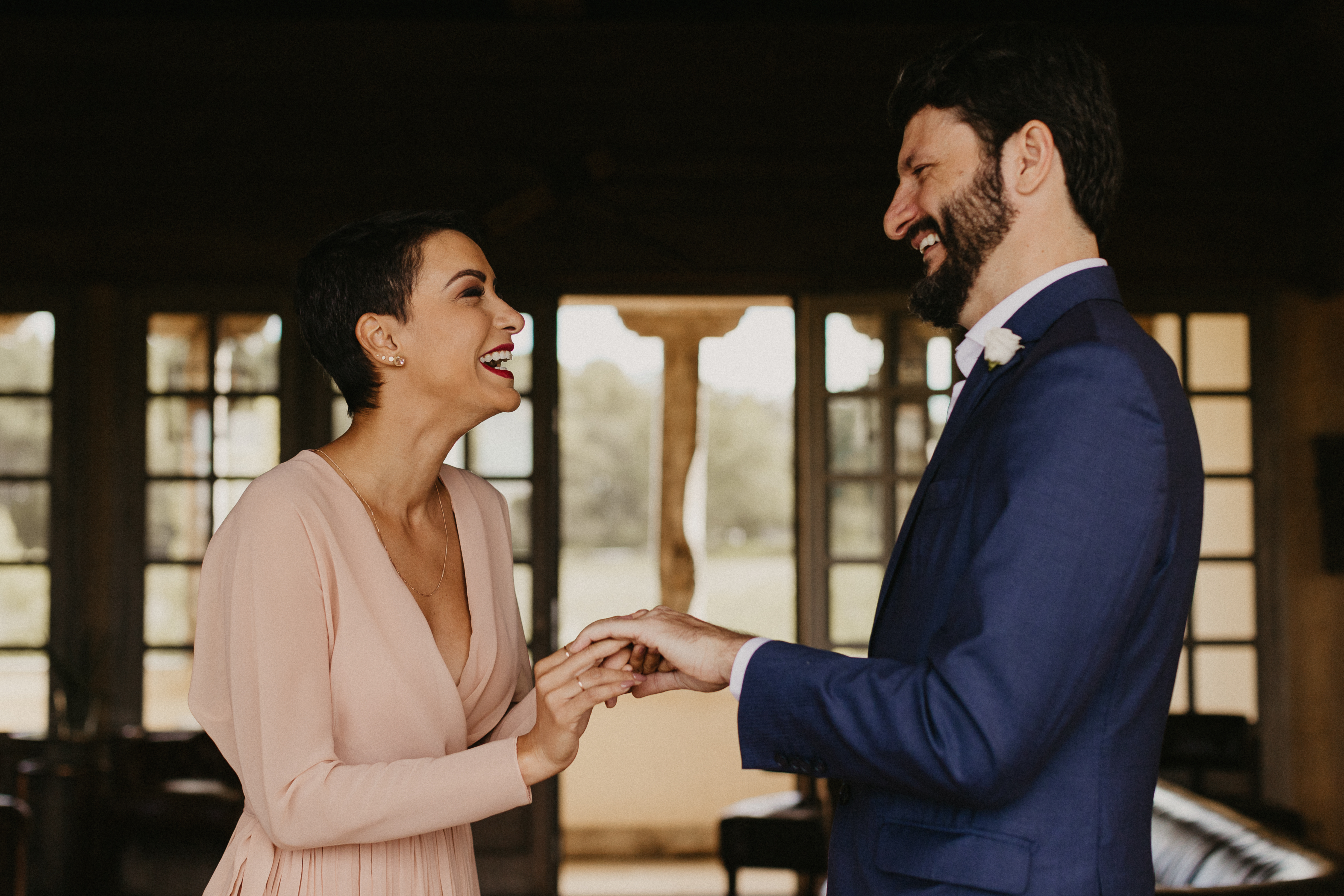 On October 14, 2018, I had the real fortune to elope the most romantic, magical Brazilian souls at Les Sources de Caudalie near Bordeaux.  This day was very special as it was my last celebration of the year, a great way to finish my wedding season 2018 and to celebrate my birthday!
The organisation for the elopement was planned by the wonderful travel agent Roberta from Leroy Viajens back in Brasil. We connected by WhatsApp and she helped me to know a little more about them and what they envisioned for their special day.
What we all lived would be described simply as MAGIC. We were surrounded by the most delicate background with gorgeous vineyards and the violin playing for us. A very intimate moment, filled with many emotions for all of us, with a love that is so strong, that every time I recall this day in my head, I feel confort in my heart. Happy tears slipped during the entire ceremony and their friends and family back in Brasil shared this moment with a live video.
Jana and Rodrigo have those stories that you only see in movies or read in books. Their love story began when they met each other at a samba club. Jana reached Rodrigo for the first time, they laughed and enjoyed each other's company all night. They didn't' exchange phone numbers but destiny unite them again a couple of weeks later at another bar where they talked for hours.  Jana gave Rodrigo her phone number but Rodrigo never wrote it down.
Time passed by and one year later while Rodrigo was walking across from the same bar and with tickets to see a concert, he decided to call Jana. After 3 attempts, he actually got her number right! He asked her if she could go out with him but didn't mention his name during this call. They went out and the connection was so strong, that this time, they made sure to have each other's numbers and started officially dating.
After ups and downs, living apart for years and surpassing life's obstacles, their strong love remained. Nowadays, they share their gorgeous house in the countryside with their 6 dogs and are planning to have a family in the near future.  All my love, respect and admiration for you today and always. Thank you for  letting me share and live this moment with you,  thank you for being who you are, two wonderful souls who have had the fortune to have met each other in this life.
Love,
Blanca
Planner. Roberta from Leroy Viajes
Photographer. Flanerie Photo
Place. Les Sources de Caudalie
Planner. Roberta from Leroy Viajens
Make up artist. Luciana Caroline. Luh Makeup Artist
Violin.  Rafael Carmo. Violinist Paris
Celebrant. Blanca Bertely
–
Here's what Jana wrote herself.
"In our family, boy wears blue and girl wears pink. And the boy and the girl get married half without wanting, no religious ceremony, no one around. In our family, the boy is sensitive and caring, and the girl is mouth and sassy. In our family, the girl has short hair, and the boy has flowery shirts. In our family, the boy might want to have children, and not the girl. In our family, the girl and the boy can be and use whatever they want, regardless of whether they are a boy or a girl.
In our family, the boy and the girl have lgbtq+ friends and fight for this other family. In our family, the boy and the girl defend the rights of the indigenous, the maroons, the blacks, the migrants. (Animal Rights, I don't speak! )
In our family, what matters is not the color of the skin, the flag or the clothes (even because the boy wears much more pink, and the girl wears much more blue). In our family, what matters is if you undress – the prejudices, the masks, the trials. In our family, fuck the color that the boy or the girl wears. What matters is the color of the soul: Colorful.
May all these colors, including pink and blue, help us to remove the shadows. After all, if you are reading here, you are part of this family.
" you must be attentive and strong, we have no time to fear death."
" we consider fair all form of love."
" people are to shine, not to starve."
" they want someone who comes from where we come to be more humble, lower your head, never retaliate, pretend you forgot the whole fucking thing. I want them to fuck!"
If you would like to know their story in Portuguese, click here. 
---